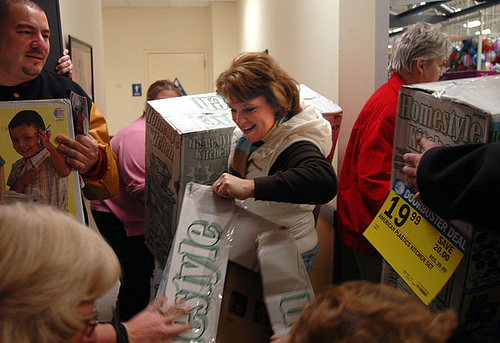 With the Holiday season in full swing and retailers planning on opening at 8pm (WalMart) and 9pm (Target) on Thanksgiving Day, I wanted to reflect on what I see as a cultural split-personality of frugality and consumerism.
On the one hand we have frugality, which focuses on living within your means and getting out of debt. Frugality and living frugal has become a very hot topic in recent years, most likely because of the housing bubble and subsequent recession. Even those who have not lost their job are more cautious about the possibility that their job could be eliminated, or that their personal situation could be affected some other way. Based on the rock-bottom average savings rate of most Americans, I think that this focus is a good thing.
What we see with the deal and coupon culture is that there is actually arguably more (or at least stable) consumerism; when you can get things for relatively "cheap" prices, you have more money to spend on those things that fall more under your want list. The new focus on frugality may force retailers to compete on price more often than they would like, but if people are still consuming at the same level they can still rack up the profits – even if those profits are razor-thin on a per-item basis.
Do I think this cultural split-personality is a bad thing? No
The reason I do not think this split-personality is a bad thing is because taking advantage of coupons and deals can help stretch your dollar. Coupons are usually for things that we need anyway: groceries, toiletries, home goods, etc. Deals may cater more towards things that we want, like televisions and new furniture, but as long as there is room in our budget for these things it's not necessarily bad to take advantage of them.
If you can save a few thousand dollars over the course of a year by using coupons on things that you would purchase anyway, spending money on things you want is much more justifiable. Bonus points if you look for deals on those things on your want list before you purchase them.
While many people participate in Black Friday and Cyber Monday, there are many who shake their head at the mass consumerism that takes place on these days. Personally, I don't blame people for taking advantage of deals on these days; there are deals year-round but there is never another day like Black Friday or Cyber Monday where there are literally hundreds of retailers offering deals and discounts. Why wouldn't people take advantage of these once-a-year days?
What I'm getting at is this: frugality and consumerism are neither bad and can easily co-exist; a smart consumer is one who is frugal in their lifestyles and their purchasing behavior.
Will you see me at stores at midnight or even Thanksgiving evening? Will you see me searching for deals on Amazon
on Cyber Monday? Yes – if there are things that I need or would purchase anyway. Not much changes on Black Friday for me – I use the same approach year-round when deciding what to purchase.
____________
Photo by Beth Rankin