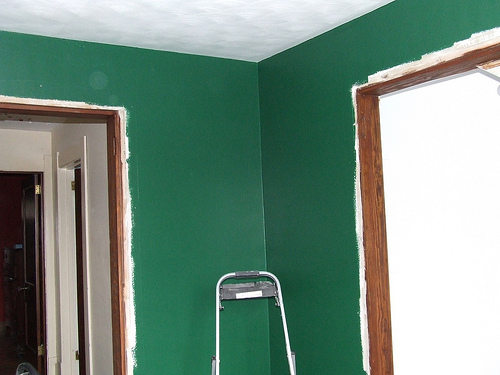 Sometimes when you get into an apartment you want to make it nice and your "own" place. This may lead to ideas of painting a couple rooms or even just a few walls in given rooms. This happened to my wife and I when we got our first apartment together. Since this was our first home together, we really wanted to make it a nice place, and we definitely did!
When we first moved into the apartment we did end up painting it and it looked great. Adding our new furniture and various pictures/decorations (all my wife's doing…she has an eye for it) and a new 46″ tv (my doing!) and we had quite the place.
Fast forward a year and we are in our new house with 1,000 ideas of things we want to do to it. Unfortunately we had to spend the last week (yes, various weeknights and 9-10 hours on Saturday) getting the place painted back to it's original color and making sure everything is clean. Looking back, we really wish we hadn't painted. Here's why:
The Costs Involved

Simpy put, painting an apartment and painting it back costs a lot. The fun part and the expense you don't mind is when you are moving in and get to pick the colors of each room. Painting isn't as much a pain when you get to reap the rewards. What you have to remember is the costs involved in painting it back. Because the apartment likely has a contract with a paint company, you have no control over how much you spend on the paint. I nearly fainted when I heard a gallon was $30 – even after a 1/2 off discount through the apartment! Because of that high cost, you likely will want to prime to avoid having to use too much paint for touch up. Don't forget materials! Before you know it you've spent hundreds just to have your walls the color you want while living in the apartment

You Will Want To Move On

If you are moving out of an apartment or house, you will quickly lose motivation to put time and effort into the apartment that you were living in. After moving everything, you will want to clean and get the hell out. But if you painted, you will have to first paint everything back and then clean. I am fairly certain you will want to be at your NEW place getting set up, not at your old place spending hours on painting it back to how it was before. For us, it was hard to spend hours working on the apartment when we know there is so much work to be done at our new house. We still have a room full of boxes and laundry list of projects we want to tackle, but instead we were busy painting and cleaning at our old apartment.

Life Changes – You Could Move Sooner than Expected

When we first moved into our apartment, we had no idea that we would only be there for a year. Had we known this, we would not have been so inclined to spend the time and money on painting (and painting it back…). The thing is, apartment management changes, rents change, jobs change, and plans change – you could find yourself at a new apartment or house sooner than you would have imagined. I know we did.
I realize that some people do not even have the option of painting and some have the option of having one wall painted a color of their choice. If you do find yourself in a situation where you are able to paint as long as you paint it back or pay someone to paint it back, take a while to think about whether it really is worth the cost.
For ways to improve an apartment without painting, check out an older post I wrote about 5 ways to improve an apartment. Just disregard #4 ;)
____________
Photo by Dorothy