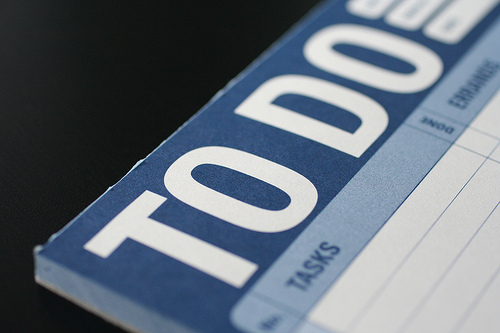 People are busy. Really busy. In today's day and age of constant communication through smart phones and an always-increasing number of commitments, how well you prioritize your time has a huge impact on your ability to accomplish goals. Time is a commodity – the most valuable one we have. You can never gain more time, so what you do with your time is of the utmost importance.
When we don't prioritize my time we can feel like we are always behind schedule or always forgetting something. There are tons of examples of people flunking out of college because they don't know how to manage their time and set priorities.
Today I want to share with you strategies I use to prioritize my time. I use this strategy at work, at home, and everywhere else to tackle to-do lists and make efficient use of my time.
1) Write It All Down
I am a huge fan of to-do lists. Some people think they are lame or pointless, but writing down the things you need to get done or what you have scheduled for the day/week/month can help you visualize how you are going to accomplish everything with your limited time.
The first and last things I do at work are updating and reviewing an ongoing to-do list. I write out everything that I need to get done that day (or the next). By having a list that is continually updated I can track what I need to do and what I have completed quickly and easily. Writing it down also solves the problem of forgetting things, because you don't need to worry about remembering it if it's written down.
2) Group Items
Once I have things written down, I group them. I usually first list the things I need to get done during the day, then divide them into morning, afternoon, or "whenever" depending on whether they are time-sensitive. I also have a group of things that I need/want to do, but that can wait for another day or are lower priorities that can wait if I don't have time.
I've found this to be very useful at school, work, and at home. For example, with this website there are things I need to do today (and every day) such as having tomorrow's post ready, put some time into my social media accounts, and respond to comments and emails. There are also longer-term things I would like and need to do such as working on a site redesign, planning topics for future posts, and general research. These things don't have to be done today, but if I have extra time I will try to tackle them.
3) Procrastination Can Help!
I learned a long time ago that procrastinating can actually make you more productive. There are some things on my to-do list that I simply do not want to do. As long as this procrastination takes the form of crossing off other things on my to-do list, I am actually being productive and getting things done – even if it is because I want to avoid something else. As long as you eventually get to the thing you are procrastinating, procrastination can help you get motivated to finish other things on your list.
To summarize:
Write everything down that you need to get done and that you have scheduled. Group items depending on when they need to get done and how high of a priority they are. Tackle longer-term goals once you have finished those things that are your immediate demands. Finally, use your procrastination of item A to get items B, C, and D finished quickly and efficiently.
What do you do to manage and prioritize your time?
____________
Photo by Courtney Dirks