What We Can Learn From Donald Trump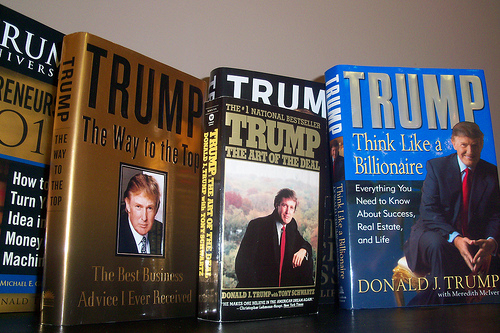 From a young age I have had a desire to become independently wealthy, or at least have enough money where I would not be stressed out about it. This led to my fascination with Donald Trump. He was different than anyone I had ever come across in my own life – beyond wealthy, very sure of his ability to build businesses, and enjoying every minute of it.
I mentioned that I had watched every minute of The Apprentice season one, but what I have not mentioned is that I have read probably ten books that Trump has either written or co-written. Those books in the pic above? Yep, I own them. From The Art of the Deal
published in 1987, to Trump: Think Like a Billionaire
published in 2004, I've read hundreds of pages of stories and advice from Trump.
In the end, the best takeaways from Donald Trump's life are fairly straightforward:
1) Don't kill your momentum
Trump is the perfect example of someone who takes full advantage of momentum; he seems to always be moving forward in his business dealings and building new businesses. Bill Rancic (winner of season one of The Apprentice) has said that at Trump corp there is a focus on what deals a deal will lead to. They are always looking ahead.
Constantly you will see people who have found some success but kill their momentum by idling instead of capitalizing on it. If you want to be ultra-successful, you have to keep building on small successes and moving on to bigger things (before your momentum dies).
2) You are a brand; promote yourself
Do I even need to expand on this? Trump is quite possibly the biggest self-promoter in the entire world. He advocates "tooting your own horn" because if you won't, who will? Who you are and what your name is associated with is all part of your brand; it's the same logic as to why recruiters might look less favorably at a candidate tagged in wild Facebook photos. Trump has built a personal brand that is associated with many things, but most of all the luxury and high-end quality of his products.
3) Find your passion
Trump loves buildings and golf. There's no surprise that he has seen incredible success in both of these areas. Also if you read his books you can tell when he has an interest in something. He thoroughly enjoyed working on The Apprentice show. Conversely, he seems to never have had much interest in the internet and it should be no surprise that internet-based businesses have never made up a sizable part of his fortune.
4) Create opportunities
Trump sees potential and opportunity everywhere, even when he was just starting out. He started with about $200,000, and built that into the empire he has today. It's unfortunate that so many people feel they are not capable of achieving something for various reasons; Trump threw all those reasons out and never sold himself short when he was trying to land his first big deal.
5) Hard work pays off
Trump is up very early in the morning, spending a couple hours going through newspapers, magazines, and other media to get updated on what is going on in the world and processing what it means for his businesses. I don't think anyone will deny that Trump works hard, and it has paid off in his situation. Perhaps even more important, he has worked smart making deals that have helped him build his fortune. Conversely, he has made enough deals that if one goes bad it doesn't threaten his fortune.
6) Things can fall apart quick
Ending on a somber note, it's important to remember that at one point Trump was worth less than a homeless man; he was billions in the red when the real estate market crashed in the 90s. One day you can be on top of the world, and the next your fortune can be in ruins and your future in business in the hands of 60+ bankers who you owe money to.
____________
Love him or hate him, Donald Trump has built an incredible fortune over the course of his life, and truly found success by his own (and many other people's) definition. While a lot of people think Trump is overly greedy, overly materialistic, the ultimate megalomaniac, I think there are practical takeaways that can be gained from looking into how Trump built his wealth.
____________
Photo by David Carlson