No Job Is Safe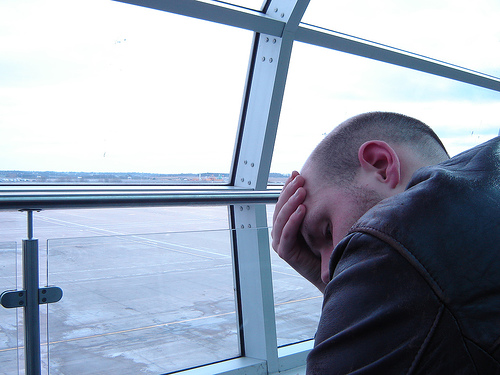 A large majority of the work force most likely feel as if their jobs are relatively safe; they don't foresee getting laid off in the immediate future. Then when it happens it hits them like a ton of bricks. In reality – no job is safe. As long as someone is paying you to do something, they may one day decide they no longer want/need your job. Even when a job seems safe, it can end a lot faster than anyone imagines.
To illustrate this point I wan to share an excerpt from Bill Rancic's book You're Hired
. As you may know, Bill Rancic was the winner of season 1 of The Apprentice, Donald Trump's reality TV show. I watched this season and loved every minute of it. I own You're Hired
and after paging through it, I'm seriously considering re-reading it – it's that good.
Anyway, here is the story:
Shook me up to where I vowed never to be in the same position to get burned like the guy on the receiving end.

Here's what happened. There was a guy who'd been with the company for thirty years-senior management, one of the top brass. I knew him only by reputation. He'd worked his way to the top, and he still hadn't eased up on the gas. He was the first one there in the morning and the last one to leave in the evening, that's how focused and on top of things he was. Busted his ass for that company, and then woke up the next morning and busted it again. One day he reported early for work, business as usual, and he was met in his office by one of his superiors and a colleague. The two men had been sent to fire him, and they ended up escorting him from his office directly to the parking lot. This was a dedicated company guy, a thirty-year veteran, loyal as his career had been long, and they didn't even let him finish out the day.

That was tough enough, but the reason for his dismissal was even more confounding: his salary, which naturally had increased over the years, was too much for the company to handle. The head of the company figured he could hire two or three junior executives for what he was paying this pro, so he cut him loose. Just like that. I actually stood off to the side and watched as they walked this poor guy out to the parking lot, and it struck me as the most incongruous thing. I thought, Man, that sucks! And it truly did, big-time. To dedicate your life to a company, to bring in a ton of business and build lots of important relationships, only to be sent packing because the bottom line couldn't justify keeping you on.

…

This realization was my epiphany. There is no such thing as job security when you work for someone else, so why not work for yourself?

You're Hired: How to Succeed in Business and Life by Bill Rancic, pages 13-15
The problem with any job is that there is no guarantee that you will be able to keep it; you are at the whim of your employer. Looking at it from a different perspective, staff at the bottom or the organization chart could get laid off simply because someone who is layers above them in management said that x percent of the budget has to be cut. How good of a job you do may have little bearing on who stays and who goes.
The fact that no job is safe is a very important fact to take into consideration. There are plenty of benefits to being an employee, but the fact that there is really no such thing as job security is a reason many people decide to stop working for others and start working for themselves.
____________
Photo by Rowan McLaughlin