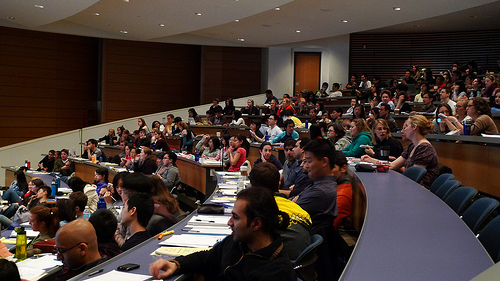 Student loan debt is a reality for most of today's college graduates. In 2011, the average debt at graduation for bachelor degree recipients was approximately $27,000. Some graduate with more, some with less, but almost everyone graduates with some student loan debt.
Student loan debt is so-called "good debt" because it is an investment in your future earning potential. Completing a undergraduate or a graduate degree program can pay dividends in the future from all the doors it can open. Student loan debt is different than other debt because even if you declare bankruptcy you will still have to pay it back.
The question I want to ask today is: Should you pay off student loan debt early?
Personally I would advocate against paying back your student loans early for these two reasons:
The interest rates on student loans are usually fairly low. Because interest rates are largely dictated by the Federal Reserve vs. the free market, interest rates are currently artificially low. True inflation is likely much higher than the stated amount (think 6-8% vs. the official percentages that are quoted by the government) because it takes a while for inflation to spread throughout the economy. Assuming your student loans have an interest rate that is less than 8%, you really aren't losing much by only paying the minimum.
Build an emergency fund and build investments instead. Instead of paying off your loans early, use the additional money to build up an emergency fund or start stashing away money in your retirement accounts. As I already stated, the interest rates usually are pretty favorable on student loans so you aren't losing as much as you think on the interest. Use your additional cash to build a safety buffer in the form of an emergency fund or get some exposure to the market in the form of investments.
There is one situation where you may want to pay down student loans early. If you are trying to get pre-approval for a home loan, the loan officer will look at your debt-to-income ratio. There is a limit (somewhere around 43%) to how high this ratio can be before you are automatically disqualified. Oftentimes student loans make up a big portion of an applicant's debt. If your ratio is too high, then paying down student debt early can help you bring your ratio down low enough so that you can get pre-approved for a mortgage.
In the majority of cases it is best to not pay off student loan debt early and focus on other financial priorities: emergency fund and building investments.
Do you think people should pay off student loans as quickly as possible or should they only make the minimum payments?
____________
Photo by velkr0