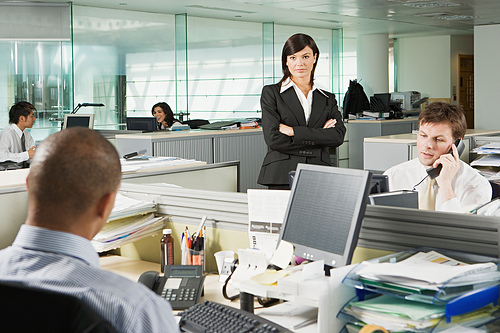 Every day millions of people at their workplaces stop and think about how much better their lives would be if they worked for themselves instead of for someone else. Thoughts of "if only I could set my hours" and "I could run this place a lot better than him/her" run through their heads. Working for themselves instead of working for "the man" starts sounding better and better.
While it's easy to fantasize about waking up and going to your home office and doing work that you scheduled (and answering to no one but yourself), often the benefits of working for someone else are not fully realized until working for yourself becomes a reality.
Here are some of the benefits of being an employee:
Health and Retirement Benefits
The best part of being an employee of a company is that they usually have benefits available. Health care is a huge benefit of being an employee, as it is much cheaper through an employer than on the individual market (this will change slightly in the United States in 2014 when insurance exchanges are put in effect).

Companies also often match 401(k) and 403(b) contributions up to a certain amount or percentage. They somtimes also offer some nice programs where you can lend yourself money against your retirement account and the interest you pay on the loan is paid to you.

One final benefit that larger companies offer is employee stock purchase plans. The plans vary depending on the employer, but some offer up to 15% discount on their stock and allow you to sell the same day they make the purchase. Others force you to hold for a longer period of time (I know one friend who has to hold his company stock for at least three years before selling). These programs are for the most part built in bonuses that you have to opt-in to receive.
Less Dependency on the Bottom Line
When you are self-employed, the revenue that is left over after all expenses have been taken into account is literally what you take home. The benefits of working for someone else is that generally (unless it is a commissions-based job) you have a consistent paycheck regardless of the bottom line. Yes, if a company is losing market share year-over-year that consistent paycheck (or job) could change. For the most part, though, working for someone else gives you the security of a consistent paycheck and less dependance on the bottom line.
No need to be a jack-of-all trades

At the beginning, a lot of entrepreneurs are forced to deal with accounting, legal compliance, marketing, administrative tasks, and more. When you are an employee you have the benefit of not having to be a jack-of-all trades.

In my current role I can focus solely on the accounting piece. Yes, I have "customers" but they are other internal employees who I provide reporting to and who I am held accountable to. I am very removed from the end client and I see it as a good thing as I can focus solely on my role in accounting and reporting.

Some people enjoy the idea of doing a variety of functions, and that's okay as long as they take into account the fact that there is a difference between the idea of doing it and the idea becoming a reality. Can you imagine how unhappy some people become when they realize they hate dealing with all the various functions of running a business and being self-employed?
There is no denying the fact that working for yourself and owning your own business has advantages over being an employee. As I have described, there are also advantages that being an employee has over working for yourself. Ultimately, it comes down to listing the pros and cons of each work setup and deciding which aligns better with both your short-term and long-term goals.
Do you think there are more benefits to being self-employed or an employee?
____________
Photo by Victor1558